Hate and Hope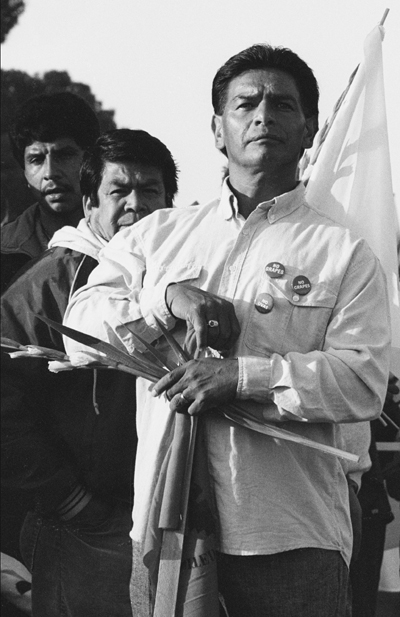 -- Farm workers wait for the funeral procession of Cesar Chavez in spring 1993. More than 50,000 people packed the small town of Delano, Calif., for the funeral.
When farm worker labor union leader Cesar Chavez died in 1993 his efforts to raise the living standards of Latino farm workers had been a mixed success. New Latino arrivals from Latin America were making less in real wages and working in increasingly deteriorating conditions. The membership in the union was also dwindling and the UFW found it difficult to unionize a younger generation of migrant farm workers, many of whom were illegal aliens.
I'd gone out to the funeral not far from Porterville. I'd taken my own film to go shoot the funeral on my own. 50,000 people had attended. I didn't know it at the time but I'd be documenting the history of Mexican-American immigrants in California for two years.
A year later, I decided to document the Peregnacion – a 350-mile march from Delano to Sacramento. My coverage began in Keene where I photographed a ceremony at Chavez's grave on the one-year anniversary of his death. The march began the next day in Delano where I covered the funeral the previous year.
The procession wound its way through the Central Valley, passing miles and miles of fields, through one small town after another, and even a few big cities. The marching was punctuated by speeches and ended with a rally on the steps of the State Capitol.
A year after Chavez's death Proposition 187 was passed in late 1995. The law was written by conservative groups opposed to tax money paying for the education and healthcare of illegal aliens and their children. Proposition 187 was later ruled unconstitutional.
Portfolio
Latest Journal Entries