Red Blue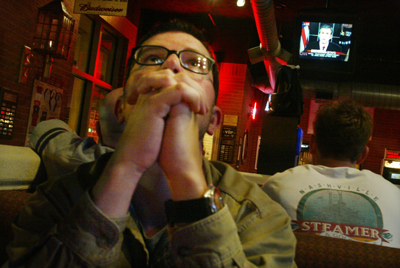 -- Jason Jancosek watches President George W. Bush announce that American forces have begun action in Iraq during March 2003.
I am simply one person with a camera. These are images of my country I captured during the 2000 election recount. It all started when I began photographing my great-grandpa because I didn't know if I'd see him again. Life is change. But, I never would have imagined the confusing and tragic events of the past five years.
The 2000 election was too close to call after a dispute over ballots in Florida. Then as everyone knows terrorists attacked my country bringing a period of uncertainty and division that has left America and the citizens of the world permanently polarized – those who support President Bush and his policies and those who are opposed. In the spring of 2003 Bush decided to invade Iraq based on allegations that Saddam Hussein was hiding weapons of mass destruction. The weapons of mass destruction have never been found but American men and women serving in Iraq continue to die almost daily.
In November, 2004 Bush was re-elected by slightly more than half of the American population. Many Americans continue to live in fear, expecting and dreading another terrorist attack. Many Americans believe this attack will occur any moment even though Bush's global "War on Terror" was supposed to protect us.
Who would have imagined this back in 2000?
I sat there dumbstruck with my nearly blind grandpa watching the recount on CNN.
Almost two years later I witnessed a patriot rally in the Midwest. People were calling for the death of terrorists after the worst terrorist attacks on American soil in history. Bush professed to hunt these people down and punish them. Weeks later I found myself photographing something called "Peace Camp" after our invasion of Afghanistan.
When I see soldiers I think of my own father, a Vietnam Vet. My father didn't adjust well to life in suburbia after he came home for a number of reasons. After getting shot at and nearly killed he'd given me all his medals when I was a small boy – a Purple Heart, Bronze Medallion, Distinguished Flying Cross, Silver Star etc. But, he still tells me he sees no glory in war though it would be incorrect to say he's anti-war.
When I go to patriot rallies I often see idealistic Americans like my father, a good person who wanted the best for his country and to help others. And at the anti-war rallies I see people like my mother who loves freedom, dislikes terrorists, but marched to bring home our troops from Vietnam.
There are too many questions and not enough answers as I watch my country torn apart by fear, distrust, anger. And each day in Iraq, good people, lovers of freedom, patriots, and heroes – who are like my father used to be – are dying, or coming back injured both physically and mentally.
Oh, I never did see my great-grandpa again.
Portfolio
Latest Journal Entries